Obrnite se na nas
Telefon
Slovenija
+386 (0) 1 280 80 19 | +38 640 80 03 40
Obrazec za stik
Veselimo se vaših vprašanj.
> Stiki
23.09.2021
New engineering service: Assortment Anaylsis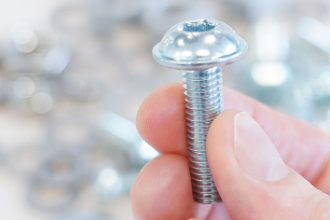 Expert Assortment Analysis reduces total cost of ownership
Whether manufacturing in mechanical engineering, in e-mobility or medical technology: Across almost all industries, companies have to keep asking themselves whether they are installing too many identical and unnecessary C-parts or fasteners - and perhaps have even lost track of them. And if so, how much time and money they could save in terms of total cost of ownership by using the right C-Parts.
This is exactly where our engineering service Expert Assortment Analysis comes in.
The goal: to determine the right fasteners, to minimize the expensive variety of C-parts, fasteners & thus storage and to optimize production processes.
Less is more: Always the right fastening saves costs
Only 15 percent of the total costs of a fastening are based on the fastener itself. The remaining 85 percent come from procurement, logistics, assembly preparation and other activities. "At the latest when a company uses our Service Expert Assortment Analysis, this unnecessary waste of costs and time becomes clear," emphasize Horst Sälzle (Head of Engineering & Services) and Matthias Volz (Head of Product Management & Business Development).
Expert Assortment Analysis: Our engineers start their job with the customer with a systematic analysis of the entire production process - the focus is on the C-parts and their use in product design, in the individual processes and in the entire process.
"We want to ensure that our customers always use the right connection!", Said Volz and Sälzle in unison.
A manufacturer-independent portfolio of fasteners
Companies that make use of our service usually have a growing product range that brings with it special challenges, especially with regard to storage and logistics. The first, precise analysis of the parts lists leads, among other things, to the fact that the number of C-parts can be significantly reduced and thus also the complexity of the order and the inventory.
In addition to engineering experience and expert knowledge, there is also something very crucial: A comprehensive portfolio of multifunctional connecting elements that is not only dependent on one manufacturer. In view of the quality of the suppliers, the customer can be sure that they are actually receiving the best solutions, that the variety of C-parts has been significantly streamlined and that the burden on storage and logistics is relieved.


Are you interested and would you like advice from our experts?
We are happy to provide you with advice and assistance and advise you quickly and competently. Please contact us.

> to the contact form
Further information can be found on our website under the following link:

> to the website